Free Artist Lecture & Demonstration
SWA has moved to San Bruno
(click on thumbnails to enlarge)
The Society of Western Artists has moved!
Our new Art Center is now open at 527 San Mateo Avenue, San Bruno, CA showcasing our

April - May Art Show April 9 - May 29

We will continue our tradition of art exhibition and education with:
National & Local Artist Demonstrations on the 3rd Saturday of the Month - Our Artist Demonstrations are free and open to every


New art exhibits by SWA Members every 2 months

Artist Workshops given by national artists to any student who is interested in learning new styles & techniques and open to the public


Art classes taught by local artists open to the public

Special non-SWA Art Exhibitions for local artists


Volunteer opportunities for people interested in supporting the arts
UPCOMING SPECIAL EVENTS
SWA's prestigious

65th ANNUAL EXHIBITION

will open on June 4 and run through August 2nd. Our AWARDS CEREMONY and RECEPTION will be held on Sunday, August 2nd, 1:00 - 3:00 PM

---

SWA's ARTIST WORKSHOPS FOR 2015

SWA is excited to announce our artist workshops for 2015. These workshops are open to anyone interested in learning more in-depth painting techniques from local and national artists.
May 8, 9, 10 Laurie Johnson Lepkowska - Oil Techniques in Still Life Laurie will demonstrate her techniques on Saturday, April 18, 1:00

June 6, 7 Joyce Barron Leopardo - Mixed Media with Collage Joyce will demonstrate her techniques on Saturday, May 16, 1:00

June 26, 27, 28 Peggi Kroll Roberts

Oil Plein Air with Model


July 24, 25, 26 David Lobenberg - Water Media Portraiture
David will demonstrate his techniques on Saturday, June 20, 1:00
For more information please visit our "Artists Workshops 2015" page
---
---
---

64th Annual Exhibition at Society of Western Artists
75 Years of Fine Art

BEST OF SHOW
"Viewing the Sargents 2"
Pastel by Gerald Boyd, SWA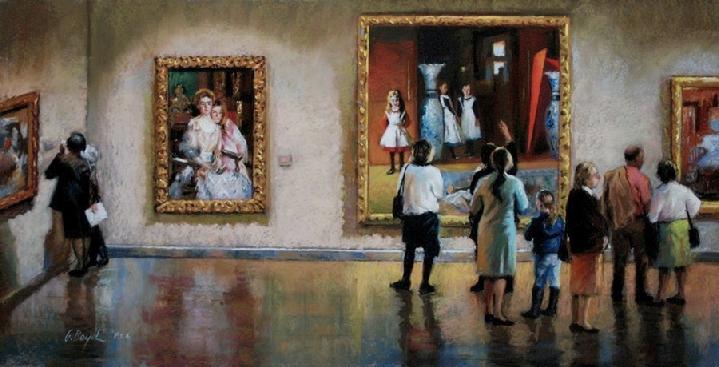 "Viewing the Sargents 2" Gerald Boyd, SWA
527 San Mateo Avenue
San Bruno, CA 94066
www.societyofwesternartists.com
Art Center Hours: Thursday - Saturday
11:00 AM - 3:00 PM
(650) 225-9250

Website powered by Network Solutions®